COVID-19 Response at SureRide
Update
We would like to thank you for your continued support during these difficult times. As we work to navigate the changes ahead, we've thought a lot about how we can continue to provide the safest transportation, while also providing peace of mind.
In response to the COVID-19 pandemic, and to ensure the highest possible standards of cleanliness and disinfection, Sureride Inc. has enacted the following protocols, guided by current recommendations from the Centers for Disease Control and Prevention (CDC) and the American Public Transportation Association.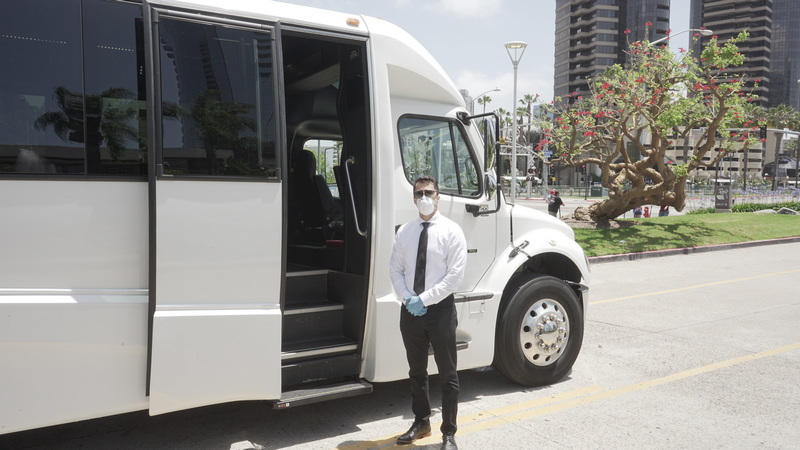 Vehicle Cleaning Processes
Interior Cleaning Equipment and Disinfection
In addition to the common disinfectants that we have always used to provide for passenger safety, we have now incorporated Vital Oxide, an EPA registered hospital disinfectant that is so safe, no personal protective equipment (PPE) is required during its application. As such, we can effectively sanitize a charter vehicle and its seating areas, and within minutes allow for passenger loading
We have eliminated "dry sweeping" on all vehicles. Current data assumes a virus may survive up to 72 hours on surfaces, and dry sweeping could cause it to become airborne. As such, surfaces will only be cleaned utilizing wet methods
Passenger & Team Member Protection
New Practices
Drivers and cleaning crew members will wear facial coverings while inside vehicles. Self-monitoring by our drivers to ensure the wellness of each and every one of our customers and retaining a 6 feet distance from drivers and customers where possible.
Chauffeurs have been advised not to shake hands with passengers. Chauffeurs will not pass out business cards. Our chauffeurs will not be permitted to report to work if they are ill.
Water bottles will only be available upon request.
Moving Forward
Our transportation services will continue to operate safely as we follow these and other rapidly evolving precautions identi­fied by the aforementioned agencies.
The safety of our passengers and team members continues to be our highest priority, now and always.
We thank you for your trust, patronage, and support as we continue to operate as the safest and most reliable carrier in the industry.
As always, you are always welcome to contact us if you have any questions.
Sending well wishes to all,
The SureRide Inc. Team